For those of us who love to knit lace, there are a plethora of patterns from which to choose. For those of us who want to delve deeper, use finer yarns, and knit gossamer lace, there is a whole new world to explore.

From my first class with Galina Khmeleva at the Estes Park Wool Market in 2006, I was hooked. I'm a life-long knitter, but in recent years I've been drawn to finer yarns and luxury fiber especially blends of cashmere, silk and yak. I'm attracted to yarns from fine lace-weight to cobweb in gem-toned colors.

A few years ago I ventured into designing my own shawls and scarves, using the Orenburg construction methods that I'd learned from Galina while adding design elements from the Southwestern USA textile traditions of Anasazi, Pueblo and Navajo peoples.

















My teacher, Galina Khmeleva, has been my principal source of inspiration as well as my source for patterns and information, both from her outstanding books and her wonderful workshops & classes. Thus, the Orenburg lace tradition is the place from which these patterns find their roots; after that, you can blame me for being eclectic and having a wandering eye.

My shawl patterns give lots of detailed instructions augmented with photographs. The lace is charted in the American-style.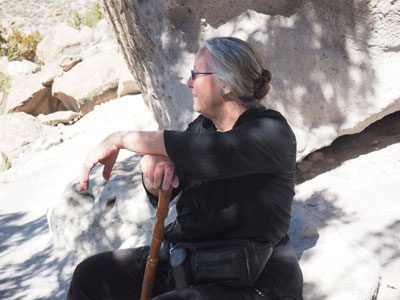 Mara (2016)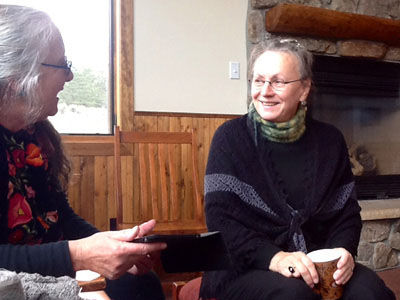 Mara and Galina at the Estes Park Lace Retreat (2015)